In year 9 students have 30 lessons a week, these are allotted as follows:
Number of lessons per subject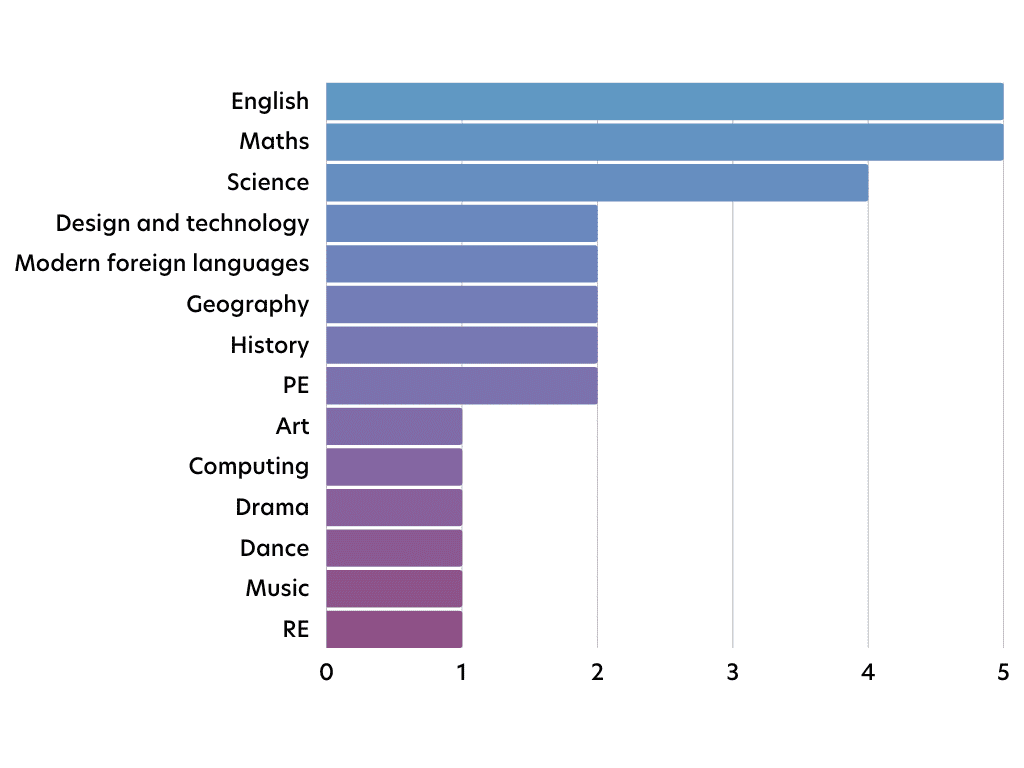 Below is a general overview of the topics students are taught throughout the year in each subject.
For a more in depth outline of each subject please click on the link for the subject page.
If you would like to speak to us about any aspect of our curriculum, please get in touch.
Art
Hundertwasser
Hockney Landscape painting
Computing
In Year 9, the topics are more relatable to Computer Science in preparation for their option choices, the students will study "Cybercrime", "Digital Circuits", "Getting down and online", "Programming" and then a topic will be specifically related to Business Studies for the students to gain an insight into what Business Studies is before they make their GCSE options.
Dance
Autumn term
Rosie Kay
Emancipation of expressionism
Spring term
Nutcracker ballet
Teacher led movement
Summer term
Performance assessments
Intro to GCSE
Skills and techniques assessment
Design and technology
Food
Further development of core skills
Planning and cooking dishes for a child
DT
Woodwork – Snap and grab
Pencil stand
Metals practical – Aluminium key tag
Textiles/Graphics
Drama
Autumn term
Spring term
Surrealism
9/11 themed performance works
Summer term
English language and literature
Autumn term
Orangeboy (novel)
Explore the function and distinct voices of characters. Narrative structure. Descriptive detail in crafting characters, settings and key events.
Differentiate between inference and deduction.
Extend knowledge of writers' craft: plot, characterisation, descriptive detail, how to create suspense and the impact on the reader.
Analyse writers' intentions
Foreshadowing, suspense, tension
Motif
Spring term
The Ostrich Boys (modern play)
Develop understanding of modern drama. Revisit and extend knowledge of modern drama conventions: stage directions, characterisation, different narrative voices, form, structure, language, tension, flashbacks, foreshadowing.
Explore the function of different characters
Explore the relationships between characters
Explore the barriers between characters
Explore the symbolism of props and motifs
Summer term
The Woman in Black
Introducing a novella.
Layered narrative structure
Gothic conventions
Exploring the fear of the unknown and the reliability of the narrator.
Exploring the function of the narrator
Exploring the barriers of fear and isolation
Exploring the function of setting
Motif
GCSE Poetry Anthology
Revision and development of poetry analysis skills
Introducing a poetry anthology
Introduction to GCSE texts and literature AOs
Focus on language, structure, terminology and effect on reader
Selecting evidence precisely to illustrate understanding of writers' methods and intentions
Geography
Autumn term
Rivers
River basin & watershed
Types of erosion & transportation
Landform features creation
Development
Development definition
Reasons for poor development
The development gap
Spring term
Tectonic hazards
Plate tectonics
Distribution of tectonic hazards
Plate boundaries
Weather Hazards
Global Atmospheric Circulation
Tropical storm creation
Primary and secondary effects of tropical storms
Somerset floods case study
Summer term
Climate change
Effects of climate change on people.
Mitigation – alternative energy, carbon capture, planting trees and international agreements.
Adaptation – managing water supply, change in agricultural methods and reducing the risk from rising sea levels.
History
Autumn term
Black, British and Belonging
The Middle Passage
Slave auctions
Slave worked economies
Punishment on a plantation
Revolt and resistance
The Civil Rights Movement in the USA, 1950s to 1970s
The American Civil War
The Emancipation Proclamation
Civil rights abuses and prejudice
The Klan and white supremacy
Spring term
Early Twentieth Century Britain – The Liberal Government and women's Suffrage movement
Reasons for reform in Britain
Liberal welfare reforms program
Impact of the Liberal reform program
Women's suffrage movement
Arguments for and against women's suffrage
The First World War
Impact of trench warfare
Weapons of warfare
Shot at Dawn
Battle of the Somme
Summer term
The Holocaust
Nazi treatment of German Jews
The Final Solution
Children of the Holocaust
Anne Frank
A Nation of Contrasts: The USA 1910-1929: Immigration
A Nation of Contrasts: The USA 1910-1929: Racial and Religious Tolerance
Mathematics
Foundation
Autumn term
Place value, rounding, estimating
Directed number
HCF/LCM
Algebraic manipulation
Angles
Sequences
Fractions
Spring term
Solving equations
2D shape
Percentages
Index laws
Summer term
Ratio & proportion
Analysing data
3d shape
Coordinates and linear graphs
Representing data
Probability
Higher
Autumn term
HCF/LCM
Index laws
Standard form
Congruence and similarity
Manipulating quadratics
Fractions and reciprocals
Solving equations and rearranging formula
Spring term
Analysing data
2D shapes
Ratio and proportion
Angles
Percentages
Summer term
Sequences
Pythagoras
Trigonometry
Real life graphs
Representing data
Transformations
Scale drawings & bearings
Music
Autumn term
Music for stage and screen
Somewhere Over The Rainbow
Jingle Bells
Spring term
Ukelele
Performance and appraising
Tchaikovsky
Summer term
Musical variations
Composition variation assessment
Introduction to GCSE
Physical education
Enhance tactical approach to sport
Components of fitness
Theoretical application of sporting knowledge
New skills, practices and activities
Further enrichment opportunities
Participation or performance
Enhance practical ability in a broad range of activities
Religious studies
Autumn term
Life After Death
Cultural celebrations – Day of the Dead
Sky Burials
Near Death Experiences
Heroes of Faith
Death in the Sand
Life and times of Gandhi
Heroes of Faith: Judaism
Nicky Cruz
Dr Martin Luther King
Muhammad Yusuf – Islam
William Booth and the Salvation Army
Spring term
Ethics and Religion
Morality of animal testing
IVF The right to a child?
War and Justice
Child soldiers
Aspects of Buddhism
The story of Siddhartha
The four noble truths
The Three marks of existence (Universal truths)
The Noble eightfold path
The five precepts
Summer term
Science
Autumn term
Cell Biology
Atomic Structure and the Periodic Table
Atomic Structure (Physics)
Consolidation
Spring term
Infection and Response
Particle Theory
The Atmosphere
Electromagnetism
Consolidation
Summer term
Bioenergetics
Ecology Part 2
Sustainable Development
Revision for End of Year Exams