In year 8 students have 30 lessons a week, these are allotted as follows:
Number of lessons per subject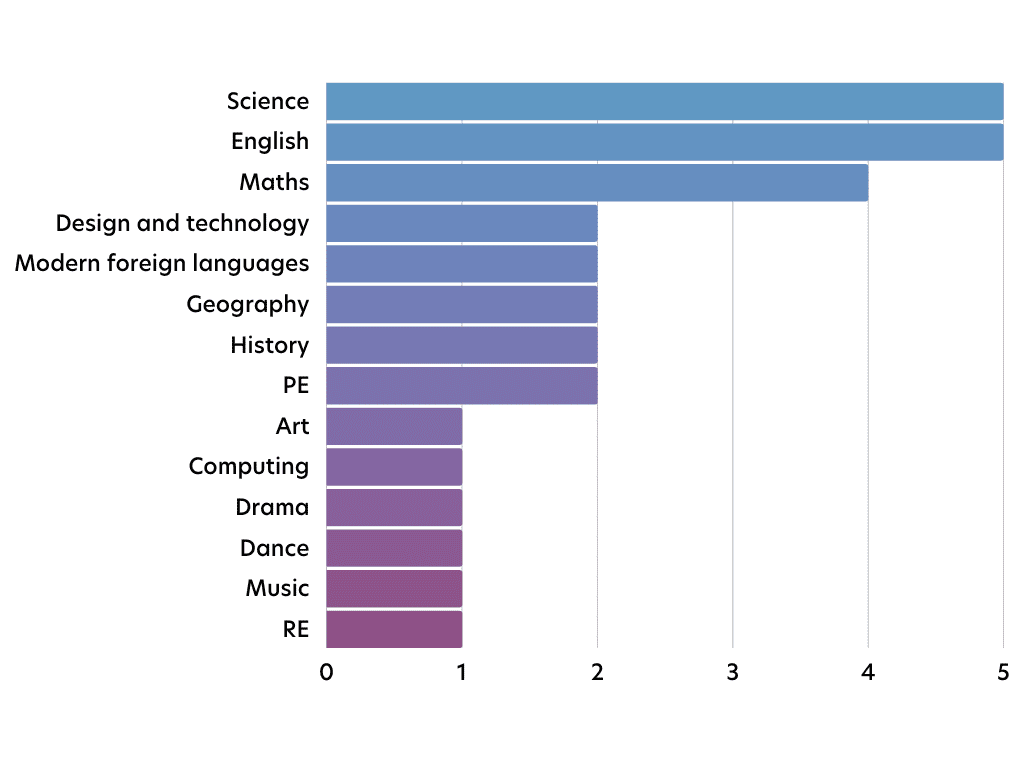 Below is a general overview of the topics students are taught throughout the year in each subject.
For a more in depth outline of each subject please click on the link for the subject page.
If you would like to speak to us about any aspect of our curriculum, please get in touch.
Computing
In Year 8, the topics range from ICT such as "Quiz Game Spreadsheets", "Creating a multipage website" moving onto Computer Science such as "Cracking the code", "Programming", "Foundations of Computing" and "Sorting and Searching". Year 8 covers some history when the students investigate Bletchley Park and the part it played during World War 2.
Dance
Autumn term
History of dance
Bollywood
Fusion performance
Spring term
Chaos and order
Chair movement and choreography
Summer term
Dance through social media
Youtube tutorial dance
Dance assessment and evaluation
Design and technology
Food
Further development of core skills
Planning and cooking dishes for a child
DT
Woodwork – Pencil case with pyrography
Metals practical – Coat hook
Textiles/Graphics
Fabric plant
Sketch up plant design
Drama
Autumn term
History of theatre
Jonah and the whale performance assessment
Pantomime
Spring term
Chaos and order
Damilola Taylor performance piece
London riots performance assessment
Summer term
Devising social media
Girls Like That performance assessment
English language and literature
Autumn term
The Bone Sparrow (novel)
Explore the function and distinct voices of characters in a dual narrative.
Explore the structure of different narratives.
Differentiate between inference and deduction.
Extend knowledge of writers' craft: plot, characterisation, descriptive detail, how to create suspense and the impact on the reader.
Spring term
Much Ado About Nothing (full Shakespeare play)
Revise Shakespearian drama conventions secured in Y7.
Explore the function of different characters
Explore the barriers between characters
Explore the relationships between characters
Extend knowledge and interpretations of form, language, structure and staging.
Summer term
Noughts and Crosses (modern play)
Develop understanding of genre-dystopian fiction.
Revisit and extend knowledge of modern drama conventions: stage directions, characterisation, different narrative voices, form, structure, language, tension.
Explore the function of different characters
Explore the relationships between characters
Explore the barriers between characters
Explore the barriers within society
Geography
Autumn term
Weather
Climate change factors
Hurricane Katrina – case study
Japan
Tsunami 2011 – case study
Spring term
Rainforests
Living in the rainforest – indigenous tribes
Deforestation – causes
Sustainability – methods
Coastlines
Tsunami formation
Summer term
Sustainability
Renewable energy
Settlements
Urban models
Hierarchy of settlements
History
Autumn term
The English Reformation
Catholicism v Protestantism
Dissolution of the Monasteries
Elizabethan England, 1558 – 1603
The Spanish Armada
Mary, Queen of Scots
Spring term
Early Stuart Dynasty – James I
Hampton Court Palace conference
The Pilgrim Fathers
The Gunpowder Plot
The English Civil War – causes, course and consequences
11 Year Tyranny
1640 Parliament and compromise
Build up to war
Summer term
The Interregnum and Commonwealth under Cromwell
World Turned Upside Down – England post 1649
Oliver Cromwell
The Industrial Revolution, 1750 to 1900 – The Modern Age
Pauper Apprentices and factory life
Growth of urbanisation
Growth and development in infrastructure – roads, cannel system and railways
Coal mining and steam power
Mathematics
Autumn term
Directed number & decimals
Factors, multiples, powers and roots
Manipulating expressions
Rounding and estimation
Area & perimeter
Solving equations
Fractions
Spring term
Polygons
Metric units & conversions
Ratio and proportion
Presenting Data
Percentages
Summer term
Substitution
Sequences
Transformations
3D shapes
Angles
Constructions
Coordinates & linear graphs
Real life graphs
Modern foreign languages
French
Lifestyle
Sport and leisure
Daily routine
Entertainment and advertising
Spanish
My city and where I live
School
Diet and healthy living
Holidays
Music
Autumn term
History of music
Blues
Keyboard
Jingle Bells
Spring term
Chaos and order
Pachabels Canon
Find your voice
Singing assessment
Summer term
Media
Harry Potter assessment
Composition character assessment
Physical education
Developing and embedding skills
Tactics
Habits, routine and best practice
Outdoor education residential
Strategic thinking
Decision making
Competition
Opportunity to support primary school sports events
Religious studies
Autumn term
Good and Evil
Theodicy
The Devil and evil
Nazi persecution of the Jews
Religion and Science
Ethical Issues surrounding Religion and Science
Accident vs Design
Is Humanity unique?
Spring term
Animal Rights
Ethics of  meat consumption
Animal testing in labs and its morality
Aspects of Islam
The Hajj Pilgrimage
Food and Fasting
Life of Muhammad
Summer term
Aspects of Sikhism
Guru Nanak
Sikh Gurus
The Formation of the Khalsa /5 Ks
The Guru Granth Sahib
The Golden Temple
British Sikhs
Aspects of Judaism
Abraham
Moses and the burning bush
Shabbat
Jewish Wedding
Passover Seder Meal
Science
Autumn term
Health and Lifestyle
Ecosystem Processes
The Periodic Table
Separation Techniques
Electricity and Magnetism
Spring term
The Earth
Metals and Acids
Adaptations
Summer term
Energy
Motion and Pressure
Ecology
Enrichment tbc