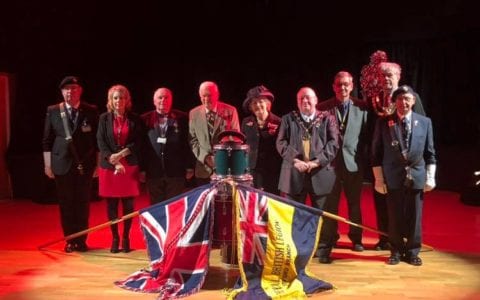 Retford Oaks Academy, part of the Diverse Academies Learning Partnership, opened its doors to local primary school pupils, dignitaries and representatives of the Royal British Legion for its annual Poppy Day event on 23 October.
The community event, which has been running at the academy for nine years, aims to help raise the profile of the Royal British Legion's annual Poppy Appeal.
Amongst the 160 attendees were Retford Town Mayor, Cllr. Michael Storey, Deputy Lieutenant Mrs Janet Richardson MBE DL, Chairman of the Retford and District branch of the Royal British Legion Tony Goodall and Chairman of Bassetlaw District Council David Challinor.
Pupils from Rampton Primary School also attended.
Several students at Retford Oaks academy are also members of the Army Cadet Force and the RAF Air Cadets, and wore their official uniforms to mark the occasion and welcome the guests.
A performance was given by Retford Oaks Academy Students and Royal British Legion representatives, which included readings, wartime poetry and interpretive dance.
Angie Baldwin talked about her experiences as a mother to sons who serve in the armed forces, and asked the congregation to make good use of their poppies after the event to ensure their remembrance is not just for the one day, but for time to come.
Commenting on the day's events, Ann Hickman of the Royal British Legion said: "It is such a privilege to come to Retford Oaks every year for this event. Today's display was very moving and it was clear that the students meant every word of their readings. We are always very thankful for the support we receive over the course of the Poppy Appeal and hope that it continues this year".
As the four years of 2014-2018 mark 100 years since World War I, the occasion was all the more poignant. Students at the academy made poppies at home to be displayed on the front lawn of the academy, and the front of the building has been carefully decorated with hundreds more poppies which can be seen from the road leading to the academy.
Retford Oaks Academy principal, Heather Widdup, said: "Every year we are given the privilege of hosting this event allowing our students to meet and interact with such an inspirational group of people from their local community. It is important to us that we continue to help our students understand the incredible sacrifices that have been made for us all – and continue to be made – by many thousands of brave men and women.
"We are very much looking forward to continuing this partnership and I am grateful to the Royal British Legion for entrusting us with such an important event every year."