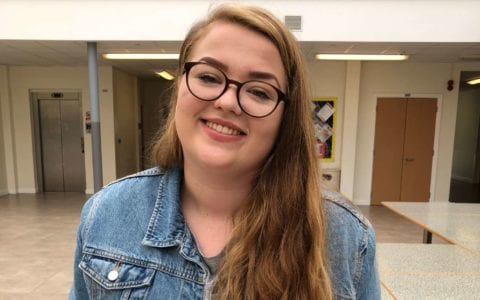 Year 13 students at Retford Oaks Academy are looking forward to bright futures after another set of excellent A Level and Applied General results.
One in five students (20.5%) achieved the top A*-B grades, and the academy saw a high pass rate of 86.3%. Record numbers of students have applied to study A Level for 2018, and the academy is confident its success rates will accelerate in the coming year, with an even wider range of A Levels on offer through a partnership with Tuxford Academy's Post 16 Centre.
There were a number of inspirational student success stories on the day, including Mary MacMillan who achieved an A in English literature and language, a B in history and a B in sociology. She said: "I am so pleased with my results. I am now going to the University of Hull to study international politics. My aim is to work in Westminster and then for the Royal Family."
Hannah Bradley achieved three C grades in drama, media and photography. She arrived with her mum to pick up her results and said: "I was really nervous that I hadn't made the grade – so I'm over the moon to see that my hard work has paid off!"
There was also great news for Rainer Smith who was delighted to find that her dedication had paid off. She said: "I have been accepted to study hair and media at North Notts College, leading me one step closer to my ultimate goal of working for the NHS, creating wigs and prosthetics for patients."
Peter Hill was delighted to have received two A Levels in English and history, and said: "I suffer from dyspraxia and am thrilled that, with my condition, I have achieved the results I have. I am now going to study at Doncaster College and hopefully fulfil my long term dream of becoming an author."
Sophie Hall will be attending Bath Spa University after gaining A Level grade C in photography and a grade C in her extended project qualification. She said: "I have had a real rollercoaster ride over the past six months, but I realised that I needed to work hard to achieve my goals. I am delighted that I am going to university and would like to thank all the staff at the centre for their support."
The students have all undertaken their studies at Retford Post 16 Centre, which is a collaboration between Retford Oaks Academy, The Elizabethan Academy and North Notts College.
From September 2018, Retford Oaks will take A Levels out of the centre and back into the academy. In partnership with Tuxford Academy's Post 16 Centre, Retford Oaks will be offering its students a choice of 37 different A Level subjects, to allow them more opportunity to create their own pathways to success.
Gemma Murphy, Associate Principal at Retford Oaks Academy and co-lead at Retford Post 16 Centre said: "This year's students have made us incredibly proud with this great set of results. They have worked hard and shown dedication throughout their time with us and we have learned so much from them in return."
Heather Widdup, Principal, added: "Our students have set a fantastic example to their younger peers at Retford Oaks and we are confident that we now have a solid platform on which to build when we are all together on one site from September. We have already had record numbers of applications for our 2018 sixth form cohort, so we are off to a wonderful start.
"Not only will this give younger students more contact with their older peers, offering them an aspirational outlook on further education, it will also ensure that our A Level students can receive support from teachers and staff members that they are familiar with. Additionally, they will gain important leadership skills by taking on responsibilities across the academy."